In this website you will find useful information regarding family law, financial agreements and divorce, divorce procedures, alimony/child support, visitation rights, common-law spouses and more.
Adv. Hagit Halevy's office is an experienced office specializing in family law. The office deals with all matters connected to family law such as: accompanying the divorce procedure, recommendations on means of action and constructing a clever strategy against the other party, dealing with visitation rights, alimony/child custody etc. anything that is needed so as to take care of your existing situation.
The office also deals with wills, divorce agreements, financial agreements etc.
You are invited to come to a counseling meeting where we will look at the existing situation and provide answers and explanations to your questions and a recommendation what we think is best for you are what to do.
To schedule a preliminary counseling meeting call now: 077-3487178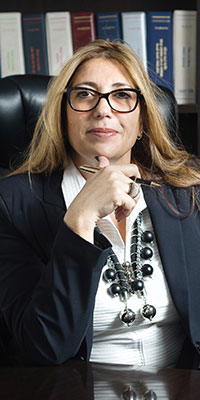 About Adv. Hagit Halevy
Member of the Family Committee of the Israel Bar Association
Certified family mediator by the Advanced Studies Institute of the Israel Bar Association
Specializes in subjects related to family matters including divorce, mediation, wills, inheritance, common-law spouse, financial agreements, divorce agreements, violence in the family, criminal law, youth criminal law and transportation.
Adv, Hagit Halevy runs an independent office which provides a professional courteous and personal service while emphasizing the clients involvement in his/her maters at all times.
The client receives, at all times, personal treatment and updated information all through the legal procedure, both form the legal point of view and even more so, the so needed moral support.
The client is an essential part of formatting the legal course, taking in to consideration his/her needs and wants, step by step, up to the desired outcome.
The office is located in Modiin (Israel), in the Azrieli Mall, Beit Shimon, 4th. Floor (above Beit Harofim)
Save