Consult with a team of veteran and experienced lawyers in the field!
For initial consultation call leave details
And we will get back to you soon
You can come to a counseling session where we will examine the current situation, you will receive answers and explanations to all your questions and a solution or recommendation of what you should do.
* The counseling session is about an hour long.
* To schedule an appointment, contact us or fill out the following form and we will get back to you soon.
We recommend having a number of counseling sessions with a number of divorce lawyers to choose the most suitable lawyer for you both in terms of personal chemistry, and in terms of strategy and course of action. Usually different lawyers analyze the situation in a slightly different way and can recommend different solutions depending on the "I believe" and working methods of each of them.
All our counseling sessions are conducted with attorney Hagit Halevi herself.
In the counseling session we will analyze the conflict, the possible solutions and recommend the recommended strategy to achieve for you the maximum results as quickly as possible with as little emotional harm to the parties and children (if any).
We will work to obtain as comprehensive information as possible regarding the client's interest, assessment of the legal situation and the costs involved.
Sometimes the client will be asked to leave the relevant documents in the office for several days, in order to allow the office staff to examine the matter more thoroughly before the client is given the firm's position regarding the necessary legal treatment and costs.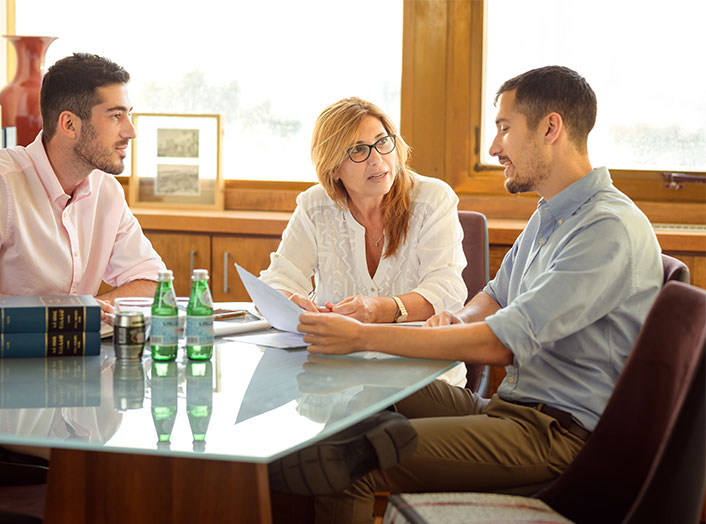 Consult with a team of veteran and experienced lawyers in the field!
For initial consultation call leave details
And we will get back to you soon
Hagit handled our claim thoroughly and with great dedication She is a professional at the highest level and we highly recommend her Taking care of our claim thoroughly and with great dedication is a professional At the highest level there is and we highly recommend it